Global equities rally supported by strengthening macroeconomic data
PHILADELPHIA, PA, April 18, 2017 – FIS Group, a manager of U.S. and global developed, emerging and frontier markets equity portfolio strategies, today issued its latest Q2 2017 Market Outlook, "Reality 'Trumps' the Reflation Trade," which evaluates the recent retreat in risk assets, trends in global equities, the impact of a strong U.S. dollar, and continued political uncertainty under the Trump Administration.
"For some investors, the retreat in risk assets brings into question to the sustainability of the reflation trade," says Tina Byles Williams, CEO and CIO of FIS Group. "However, we view it simply as a pause, which right-sets overly ambitious expectations for market policies under the Trump Administration among some bullish investors."
"The real story is that global equities are being supported by strengthening economic data," says Byles Williams. "This strengthening macro-economic backdrop is leading to more positive earnings revisions across the board." According to the Q2 2017 Market Outlook, policy expectati
ons and synchronized global growth will continue to be the biggest market considerations for investors this year.
Chart 1: Global equities are being supported by strengthening economic data.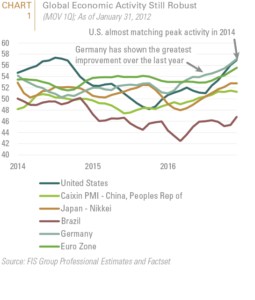 However, levels of debt among U.S. companies remains a risk. In anticipation of continued growth, U.S. companies have been boosting returns to shareholders by replacing equity with debt. While not yet at nose-bleed levels, there have been some sky-high valuations in recent months, such as TSLA, as noted by The Wall Street Journal. Coupled with the Trump Administration's policies around legistrative relief and tax reform, this creates an environment of underappreciated risks for investors.
According to the Q2 2017 Market Outlook, the U.S. dollar will be critical in determining this year's winners and losers. "A strong U.S. dollar, supported by perceived shifts in Federal policy, will import deflationary pressures into the U.S.," says Byles Williams. "This could undermine globally-exposed sectors, such as consumer staples and technology." However, compared to the other currencies, particularly the Japanese Yen, the Q2 2017 Market Outlook finds that the U.S. dollar still has room for growth.
Chart 4: A strong U.S. dollar will import deflationary pressures, undermining global-exposed sectors.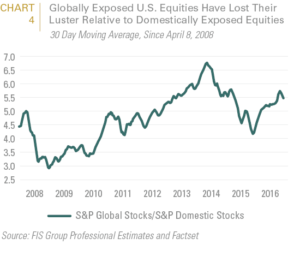 "Globally, we find European and Japanese equities to be attractive, but remain neutral on emerging market equities," says Byles Williams. "Due to the current climate of political uncertainty under the Trump Administration, which continues to be an underappreciated risk, we find equities to be risky and expensive. However, within the U.S., we're bullish on the financial sector, and also remain overweight on value and smaller names."
These underappreciated risks include the "good news" narrative in the U.S. that took the Dow Jones industrial average to an all-time high just five days after Trump's inauguration speech. Additional underappreciated risks are defined, evaluated, and explored in the Q1 Market Outlook 2017 titled "Who Knows? Navigating the Known Knowns and Underappreciated Knowns In Current Market Consensus"
About FIS Group
FIS Group is an investment management firm that provides customized manager of managers investment solutions for institutional investors. For 20 years, we have delivered risk-adjusted returns by conquering the complexity of identifying high skill, high active share entrepreneurial managers that have gone largely undiscovered by the institutional investor community. Unique among our peers, FIS Group enhances risk-adjusted returns by using macro strategy insights to allocate capital among the managers and/or through a global macro tactical completion strategy. Our culture is a fusion of relentless curiosity and a scientific, disciplined process.
For more information please visit us at xponance.com.