PHILADELPHIA, PA, January 30, 2018 – FIS Group, a manager of U.S. and global developed, emerging and frontier markets equity portfolio strategies, today issued its 2018 Frontier Markets Outlook, which provides predictions for frontier markets in the year ahead, including Argentina, Vietnam, frontier Europe, the Middle East and sub-Saharan Africa.
"Frontier markets surged in 2017, mostly driven by a PE re-rating in the market," says Tina Byles Williams, CEO and CIO of FIS Group. "We remain bullish on Argentina, Vietnam, and frontier Europe, with some caveats, and add a new modestly positive view on Kuwait. We are bearish in most of sub-Saharan Africa, although our view is colored by a lack of relative upside, as opposed to outright bearishness."
Argentina's bull market will outperform its peers
According to the 2018 Frontier Markets Outlook, Argentina is one of the most promising markets in the frontier markets index, having accelerated by more than 77 percent in 2017.
"Argentina's economy has resumed growth, and its government budget forecasts a further 3.5 percent real growth in 2018," says Byles Williams. "In December, President Macri's government was able to approve pension reforms that should slow wage growth in future years, and thus help to bring down inflation, reduce the corporate tax rate, and remove a 15 percent capital gains tax for foreign investors. This is a positive direction, and the Argentine bull market looks likely to continue to outperform compared to frontier market peers."
Byles Williams adds: "However, we are also starting to see rising inflation risks, with the expectation that the Argentine Central Bank will cut interest rates by at least 5 percent in early 2018. Despite President Macri's seemingly consolidated political position, he will ultimately prove no different than many of his predecessors in steering Argentina past the rocky shoals of Peronist populism, if he cannot deliver sustainable growth without the instability of inflation."
Fears of Vietnam bubble are misplaced
According to the 2018 Frontier Markets Outlook, Vietnam's market finished 2017 up by 65 percent (see Chart 1), significantly buoyed by foreign flows as foreign investors go to disproportionate lengths to get into the market.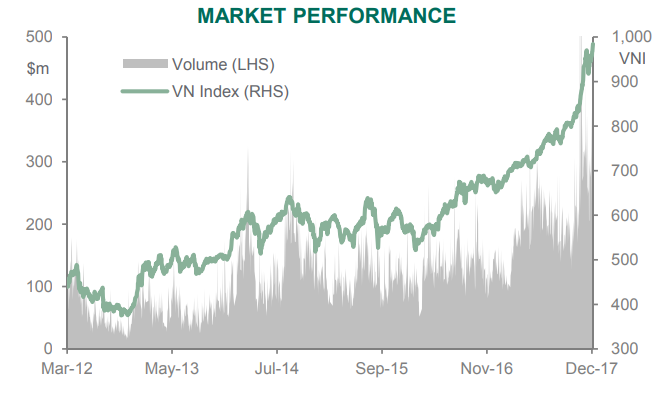 Chart 1: Vietnam's market performance, March 2012 – December 2017
"There are now over 51 companies with greater than USD $400 million in market capitalization, but approximately 38 percent of the market has reached foreign ownership limits," says Byles Williams. "When demand is strong and it's hard to get in, sellers become even more scarce; absent economic fundamentals or strong earnings, this has the propensity to easily convert into a manic bubble."
"We believe fears of a bubble are misplaced. Vietnam continues to offer both strong economic fundamentals, and 2018 is expected to be another year of 6.7 percent real GDP growth and 3 percent inflation. Meanwhile corporate earnings are surging on both a relative and absolute basis, and earnings growth in 2018 is estimated at 26 percent, which is very attractive relative to emerging markets."
Further comments on the 2018 Frontier Markets Outlook:
Frontier Europe should continue to benefit from an improving macro-economic position within the Eurozone and Russia, and remains relatively insulated from any potential market instability in Turkey.
Out of all the Middle East oil-producing countries, the rebound in oil prices will prove most accretive to Kuwait, delivering a fiscal surplus that should, at a minimum, put a floor under the equity market.
Growth in Nigeria remains elusive outside the oil sector, and despite a few years of underperformance, Nigerian consumer stocks remain too pricey. Meanwhile, Nigerian banks have closed the gap with their historical valuations and are no longer compelling compared to the rest of frontier markets.
About FIS Group
FIS Group is an investment management firm that provides customized manager of managers investment solutions for institutional investors. For 20 years, we have delivered risk-adjusted returns by conquering the complexity of identifying high skill, high active share entrepreneurial managers that have gone largely undiscovered by the institutional investor community. Unique among our peers, FIS Group enhances risk-adjusted returns by using macro strategy insights to allocate capital among the managers and/or through a global macro tactical completion strategy. Our culture is a fusion of relentless curiosity and a scientific, disciplined process.