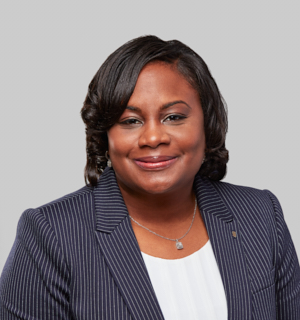 Shalonda Epps, CIPM®
Director, Portfolio Operations and Reporting
Shalonda Epps is Director of Portfolio Operations and Reporting at Xponance®. She and her team are responsible for client on-boarding, portfolio measurement, compliance monitoring, portfolio transitions, proxy voting, client reporting, manager operational due diligence, composite creation and maintenance, GIPS verification, client/manager invoice calculations and departmental compliance reviews and audits. Shalonda is also responsible for maintaining investment policies and procedures for the multi-manager strategies. Shalonda is an equity owner and a voting member of Xponance's Investment Committee.
Shalonda began her career at Delaware Investments in July 1998, working in various client servicing roles. Toward the end of her tenure with Delaware, Shalonda was a marketing associate, providing marketing support to the firm's senior marketing and client services team members. In this role, Shalonda served as a primary liaison to the firm's International Equity clients and investment consultants.
Shalonda is the Executive Director of Xponance's, A Good Measure Foundation ('AGM').  A Good Measure Foundation supports individuals and organizations that educate youth and work to improve the lives of impoverished or marginalized women and children. Shalonda also serves on the Board of Philadelphia Youth Basketball.
Shalonda earned a B.A. in Liberal Arts with a minor in Finance from West Chester University. Shalonda has also earned the Certificate in Investment Performance Measurement (CIPM®) designation from the CFA Institute.