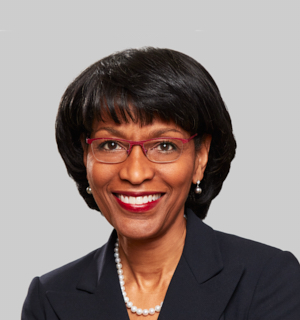 Donna A. James
Independent Board Member
Donna James is a trusted resource and advisor to leaders in the public and private sector. Prior to starting her own business, Lardon & Associates, she retired as President of Nationwide Strategic Investments, a division of Nationwide Insurance and Financial Services Company. She serves on the board of directors for Boston Scientific, Xponance® and Lbrands. She is a board advisor for Marathon Petroleum. In her community, she is a trustee for OhioHealth hospital. She has previously served on the boards of Marathon Petroleum, Coca‐Cola Enterprises, Time Warner Cable and CNO Financial Services.
Donna's passion for enabling others to find their best next drives her personal and community engagement. She is co‐founder of the Center for Healthy Families, a collaborative focused on transforming the lives of pregnant and parenting teens and their children. She is co‐executive director of the African American Leadership Academy and previously co‐chaired the CelebrateOne initiative to reduce infant mortality in Columbus and Franklin County. She has received numerous honors including an appointment by President Obama to chair the National Women's Business Council and named by Black Enterprise Magazine as one of the top 75 in Corporate America. Donna and her husband, Larry received the American Red Cross Humanitarians of the Year Award and the Julian Sinclair Smith Celebration of Learning Award.
She is the wife of attorney Larry James, managing partner with Crabbe, Brown & James in Columbus, Ohio. They have two adult children, Christopher and Justin, several grandchildren and an abundance of nieces and nephews.